9 Things To Consider When Remodeling Your Kitchen



We've all been tempted to take a sledgehammer to something in our homes, perhaps after binge-watching
Fixer-Upper
or
Property Brothers
. Before you go all Jonathan Scott on your kitchen, there are a few things to consider before remodeling your kitchen.
1: Are you loving or listing?


Unless you are considering putting your house on the market in the next 12-24 months, any changes, styles or choices should reflect your personal style. Styles, colors and trends change so fast that you should make sure you are getting what you want in the update.
2: Are you respecting the home's architectural integrity?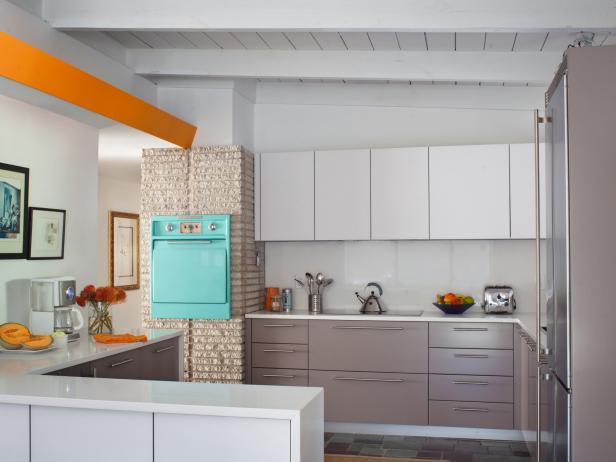 In this midcentury modern kitchen remodel, the original turquoise wall oven was left intact. Much of the charm and appeal of a midcentury modern house is that it reflects that period in time.


So yes, you would be surprised how much somebody would pay for the orange countertops and original appliances if it is true to the period of the house.


Continuity within the home is also important. So make sure the new kitchen flows with the rest of the house.
3: Are you skimping on cabinetry?
Putting in cheap cabinetry is a mistake. The cabinets are one of the biggest investments in a kitchen. We go into a lot of homes that still have very high-quality cabinets in place. While they may be older, if they fit the look of the house, they can last a long time. Particleboard is not the way to go and nobody wants it to end up in a landfill.
4: Do you really need top-of-the-line appliances?
While investing in quality appliances is always advisable, assess all your needs before going cuckoo with that 24-month same as cash credit offer. Do you really need a chef-grade six-burner stovetop? Probably not, but having a large family does merit the need for the Cadillac of dishwashers.
"Consider how often you use them and how much wear and tear they will get," said Nielsen. "Choose appliances offering you the most features that you'll actually need to suit your lifestyle, remembering to be honest with yourself."
5: Do you trust your contractor?
This is a big one.
Make sure you do your research before hiring a contractor. I can tell you horror stories when people didn't do their due diligence. Ask for a lot of referrals and make sure people liked the contractor at the beginning of the project, middle, and end of the project.
If something seems off to you or your personalities don't seem to jive, don't hire them.


6: Is your kitchen too trendy?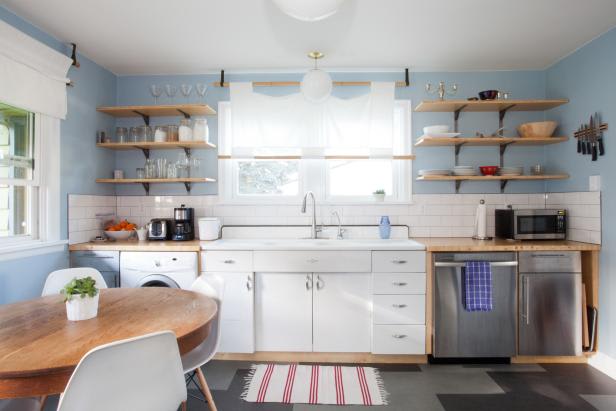 Open shelving is hot right now, but is it practical?
We have all seen open shelving in magazines, with all the dishes neat and orderly. But is that really the way we live? Come take a look inside my cabinets right now, open shelving is not really practical for our lifestyle. Too much open shelving, if unorganized, can create clutter and dust, three things totally not worthy of display."


7: Is your kitchen functional?
Everything should have its own place. Take inventory of what you have and think about where it will go. For example, will that big lobster pot need or have a home?
Think about all the items in your kitchen from pots, pans, spices, gadgets, mixers, utensils, and wine glasses. Think about how you use your kitchen, where you stand, chop, and where people congregate.
Consider using large deep putout drawers rather than lower cabinets. This can provide access to areas that were inaccessible before.


8: Are you maximizing headroom?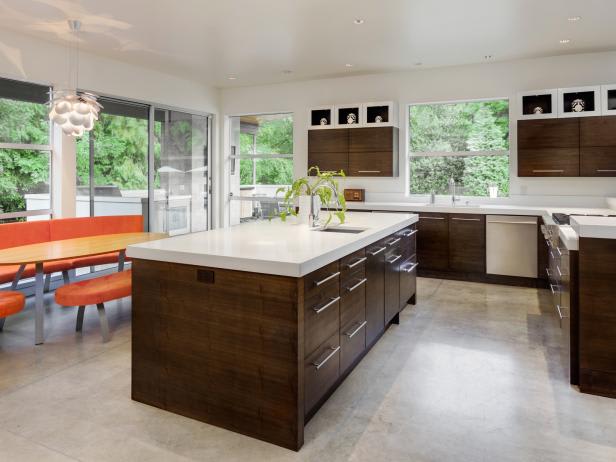 Before starting a kitchen renovation, do some research and find out if those spaces above the cabinets are empty or ductwork. Many times there were soffits running from the cabinet to the ceiling with nothing in them. Back when cabinets were one size, there would have been dead space.
Think about taking your cabinetry all the way to the ceiling, if possible. Having dead space or unwanted soffits leaves more storage opportunities on the table.


9: Are you playing it too safe?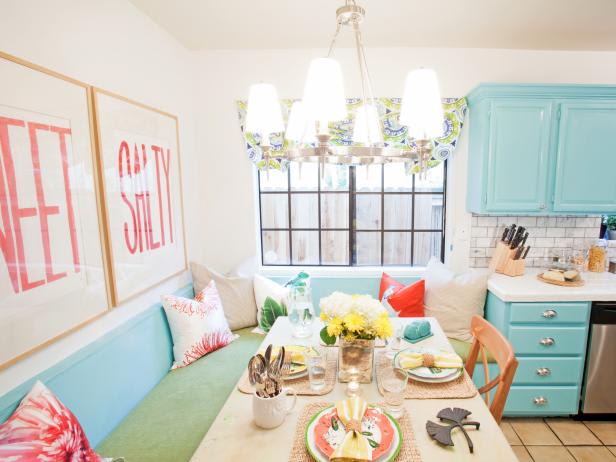 Unless you're selling your home soon, don't be afraid to infuse your kitchen with color and personality.
When Benjamin's clients' kitchen needed an upgrade, he convinced them not to turn it into a Stepford kitchen until they were sure they were ready to sell. The Atlanta family of five with a penchant for the eclectic assumed their space would need complete sterilization if they ever wanted to sell.
"They brought me in to advise on 'maximum resale'. I laughed and said we will deal with that after your last kid hits freshman orientation, which is in 10 years," said Benjamin. "They redid their kitchen with super fun colors that match their [wackier] tastes."
Nielsen agrees that your kitchen should not be bland and that not everything needs to match.
"Hardware, faucets, and lighting do not need to be in all of the same finish," said Nielsen. "Mixing materials and textures can create warmth and interest. Have to fun it."
After all, the party always ends up in the kitchen.